Changing
the game
for
nature
Bagh arranges criminal investigation training
Wed March 29th at 12:26pm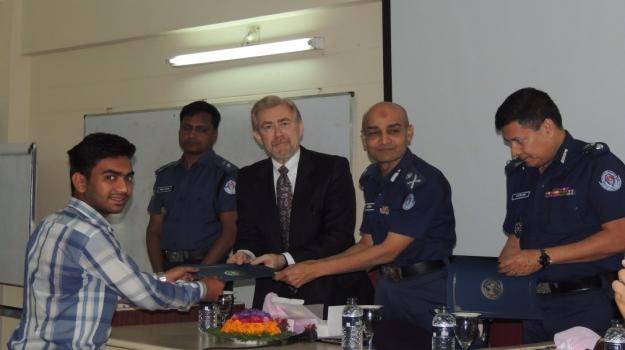 USAID's Bagh Activity (a project implemented by WildTeam) in collaboration with the U.S. Department of Justice (DOJ) organized a month-long training on basic criminal investigation and interviewing for Forest Department staff and Police personnel to enhance their capacity in combating wildlife crime in the Sundarbans.
The training was held at Bangladesh Police Academy at Sardah in Rajshahi from 26 February to 22 March 2017. A total of 15 Forest Department staff and four Police sub-inspectors stationed in the Sundarbans periphery attended the training in two phases, each spanning two weeks. The objectives of the training were to better enable the Forest Department and Police to collect data and other evidence more efficiently so that criminals are successfully prosecuted and sentenced; those that would otherwise engage in wildlife trafficking are deterred, and the Government has as much information as possible on the factors influencing wildlife crime in the forest.
The International Criminal Investigative Training Assistance Program (ICITAP) of the DOJ brought in trainers from Portland Police Bureau, U.S. to conduct the training. The trainers included Criminalist Mr. James Powell, Sergeant Mr. Bret Barnum and Officers Mr. Brian Dale and Mr. Jason Hubert. The training focused on specialized techniques on criminal investigations, evidence collection, and interviewing and crime scene management aligned to the realities of wildlife crime in the difficult terrain of the Sundarbans. Certificates were distributed among the participants upon successful completion of the training. Mr. Md Nazibur Rahman, Principal of Bangladesh Police Academy and Mr. Karl Clark, Program Director of DOJ/ICITAP of US Embassy, Dhaka were present as Chief Guest and Special Guest respectively at the graduation ceremony of the training. Ms. Katherine J. Wachala, Deputy Chief of Party of USAID's Bagh Activity and other high officials of US Embassy and Police Academy were also present at the ceremony.