Changing
the game
for
nature
Bagh arranges exposure visit to India, Nepal
Tue January 24th at 01:25pm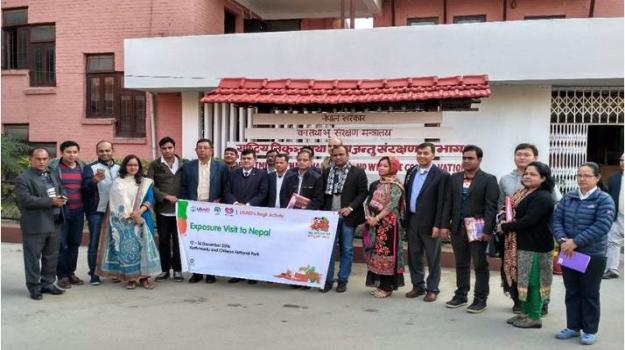 USAID's Bagh Activity (a project implemented by WildTeam) organized a nine-day visit to India and Nepal in December for representatives from Ministry of Environment and Forests (MOEF), Planning Commission and Forest Department (FD) to help them see firsthand the natural resources management in those neighboring countries and exchange knowledge on important conservation issues with their counterparts.
A total of 11 high-level government officials, six Bagh staff and a representative from Smithsonian Institution made the exposure visit to Chitwan National Park in Nepal and Sundarbans National Park in West Bengal, India from 12 to 20 December 2016. Bagh organized the visit to bring together relevant FD officials and NGOs of Nepal and India to learn more about their forest resources and wildlife management practices, specifically with regards to tiger conservation that Forest Department and Bagh can apply in Bangladesh. During the visit, the Bangladesh delegation looked at different aspects of forest resource and park management, partnership models with community and NGOs, anti-poaching management, forest patrolling, human-tiger/wildlife conflict management, wildlife tourism, and inter-agency coordination on research, anti-trafficking and the community outreach programs in those two national parks in India and Nepal.
The delegation comprised of Deputy Chief Conservator of Forests Mr. Mohammed Shafiul Alam Chowdhury; Conservator of Forests, Khulna Circle and Project Director of USAID's Bagh Activity Mr. Zahir Uddin Ahmed; MOEF Deputy Secretary Ms. Nasima Parvin; Program Director of Smithsonian Conservation Biology Institute Dr. Mahendra Shrestha and Institutional Development Coordinator of Bagh Activity Mr. Khandaker Fokhrul Alam, among others. The visit was hosted by Department of National Parks and Wildlife Conservation (DNPWC) and National Trust for Nature Conservation (NTNC) in Nepal and by West Bengal Forest Department and World Wide Fund for Nature-India (WWF-India) in India. The delegation had meetings with senior officials of the host organizations and visited the Chitwan National Park in Nepal and the Sundarbans National Park in India during the exposure visit.