Changing
the game
for
nature
Bagh arranges training for VTRTs on beekeeping
Wed February 15th at 06:09pm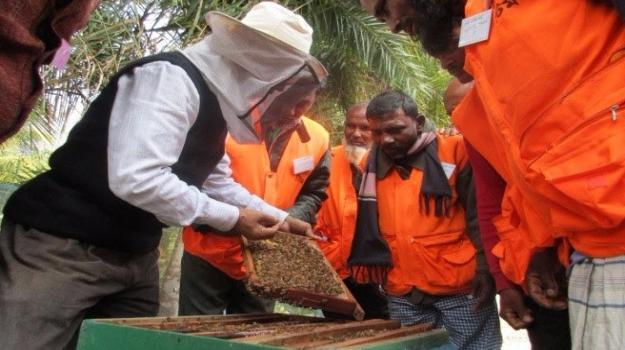 USAID's Bagh Activity (a project implemented by WildTeam) organized a training program for the village tiger response team (VTRT) members in January 2017 to help them adopt eco-friendly beekeeping methods and pass on the expertise to the communities to create supplementary income generation opportunities and support positive conservation action.
A total of 71 VTRT members including five women volunteers based in Munshiganj of Satkhira participated in the three-day training held at Tiger Point of the area from 18 to 23 January. Divided into two groups, other participants at the training included selected Bagh staff, Upazilla Agriculture Officer, Upazilla Cooperative Officer, local leaders and honey consolidators. Mr. Gary F. Collins, Chief of Party of USAID's Bagh Activity, inaugurated the training program which was facilitated by Bagh's Apiculture Consultant Mr. Abdul Alim Bhuiyan, Livelihoods Manager Mr. Mohammad Ehsanul Haque, Livelihood Specialists Mr. Mizanur Rahman and Mr. G.M. Morshed Siddiqui, and ICT Officer Mr. A.R.M Zahid Hassan.
The objective of the training program was to enhance the knowledge, skill set and attitudes on modern and eco-friendly apiculture as a sustaining tool to reduce dependence on Sundarbans forest resources by creating alternative income generation opportunities for people living near the Sundarbans. In addition to technical demonstrations of eco-friendly beekeeping methods and techniques, the training also focused on the importance, challenges, and opportunities of beekeeping.