Changing
the game
for
nature
Bagh celebrates Sundarbans Day on 14 February
Tue February 28th at 05:35pm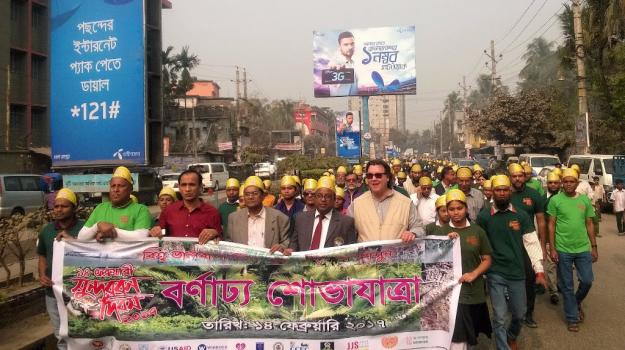 USAID's Bagh Activity (a project implemented by WildTeam) organized different programs in collaboration with Bangladesh Forest Department to observe the Sundarbans Day in all four ranges of the Sundarbans on 14 February to raise awareness of the importance of protecting the world's largest mangrove forest.
With the theme 'Love Sundarbans on Valentine's Day', the Sundarbans Day programs included painting and speech competition on the topic 'We will save the rich biodiversity of the Sundarbans', colorful procession, cultural event, discussion on the importance of conserving the Sundarbans and prize giving ceremony. Khulna Divisional Commissioner presided over the programs held at UN Park in Khulna city. Member of Parliament from Khulna-2 constituency; Mayor of Khulna City Corporation; Chairman of Khulna Zila Parishad; Deputy Inspector General of Police of Khulna Range; Conservator of Forests, Khulna Circle and Project Director of USAID's Bagh Activity; Deputy Commissioner of Khulna; and Chief of Party of USAID's Bagh Activity also attended the discussion and cultural event. The speakers at the discussion lauded the ongoing tiger conservation activities carried out by USAID's Bagh Activity and stressed the importance of strengthening law enforcement efforts and enhancing education, awareness and community engagement for wildlife conservation.
Separate programs were organized in all the four ranges of the Sundarbans periphery to mark the day where representatives from government and non-government organizations, Village Tiger Response Team (VTRT), Co-Management Committee (CMC), TigerScouts, Baghbondhu, students, teachers, journalists and community leaders attended. The decision to observe 14 February as the Sundarbans Day was taken at the national convention on Sundarbans held on 14 February 2001 in Khulna city.