Changing
the game
for
nature
Bagh launches boats and observes Wildlife Day
Mon March 20th at 11:56am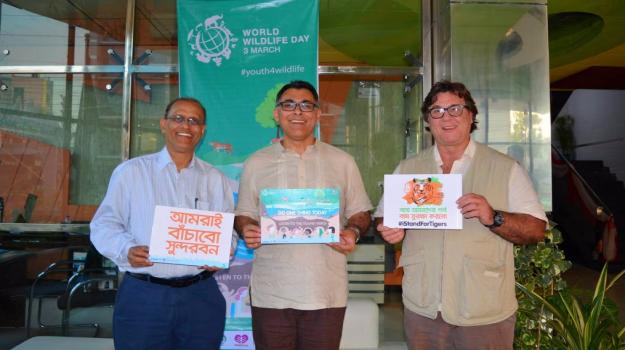 Bangladesh Forest Department, in partnership with USAID's Bengal Tiger Conservation Activity (Bagh - a project implemented by WildTeam), launched three new boats on March 2 ahead of the World Wildlife Day to strengthen the conservation of the Sundarbans Reserve Forest.
The Conservator of Forests, Khulna Circle and Project Director of Bagh, Mr. Md. Amir Hosain Chowdhury, and Mr. Nathan Sage, Acting Office Director, Environment & Global Climate Change Team Leader of USAID/Bangladesh's Office of Economic Growth, launched the boats. Also present were Professor Md. Anwarul Islam, CEO of WildTeam, and Mr. Gary F. Collins, Chief of Party of Bagh. The boat launching took place at Forest Ghat in Khulna.
USAID's Bagh Activity also observed the World Wildlife Day on 3-4 March in collaboration with the Forest Department in Dhaka and Khulna to raise awareness of the importance of conserving the world's largest mangrove forest. In line with this year's theme 'Listen to the Young Voices' and the tagline 'Do One Thing Today to Help Protect World's Wildlife' the World Wildlife Day events featured a discussion and cultural activities at Burirdabur SESDP Model High School at Dacope, on the outskirts of Khulna. Local government representatives, high officials from the Forest Department, teachers, students, journalists and a delegation from USAID/Bangladesh and Bagh attended the events. The USAID and Bagh delegations also held a meeting with one of the Village Tiger Response Teams on the occasion to discuss different aspects of the community-led conservation activities supported by Bagh in the Sundarbans periphery.
Two of the new boats were designed to patrol the Sundarbans and the small boat will be used by the Forest Tiger Response Team (FTRT) of WildTeam to continue community-led patrol throughout the periphery of the Sundarbans. The Forest Department in collaboration with USAID's Bagh Activity organized a seminar at Bana Bhaban at Agargaon in Dhaka on March 4 as part of its two-day program to mark the World Wildlife Day. The honorable Environment and Forest Minister, Mr. Anwar Hossain Manju, attended the seminar as the Chief Guest.