Changing
the game
for
nature
MOEF Deputy Chief visits camera-trap survey
Wed February 1st at 12:24pm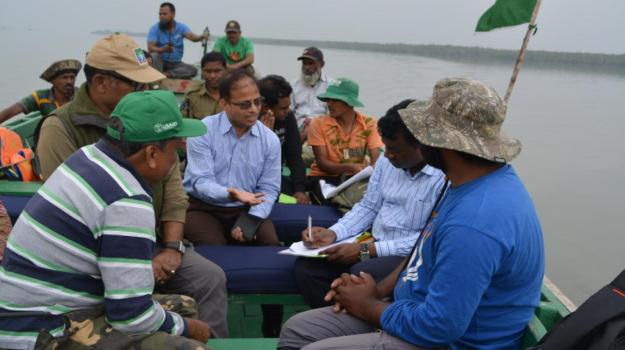 The Deputy Chief of the Ministry of Environment & Forests (MOEF), Mr. Shamsur Rahman Khan, made a two-day official visit to Khulna from 26 to 27 January to evaluate USAID's Bagh Activity (a project implemented by WildTeam) and observe the field activities being carried out by the Project.
The MOEF Deputy Chief was particularly interested in observing the camera trap survey and SMART Patrolling. He traveled to the Sundarbans, West Sanctuary and met the survey team at their boat, visited the camera-trap points to get a better understanding of its function in monitoring tigers and other wildlife. He also visited the SMART Patrol team in the field and inquired about different aspects of the innovative law-enforcement initiative.

Mr. Sayed Ali, Divisional Forest Officer (DFO) of Sundarbans (West) and Mr. Malay K. Sarker, Khulna Regional Manager of USAID's Bagh Activity accompanied the MOEF Deputy Chief during the visit. Bagh officials briefed the MOEF Deputy Chief about different components of the Project and how these are making a difference in the government's efforts to conserve the Bengal tiger and the biodiversity of the Sundarbans. Mr. Shamsur Rahman held a wrap-up session with the DFO and Bagh officials at the end of his visit where he expressed satisfaction over the implementation status of Bagh and appreciated the outputs delivered by the Project. He also hinted that the MOEF Secretary might visit Khulna soon to observe the activities carried out in the field by Bagh and other relevant projects.