Changing
the game
for
nature
Safety training for forest resource collectors
Wed April 19th at 05:07pm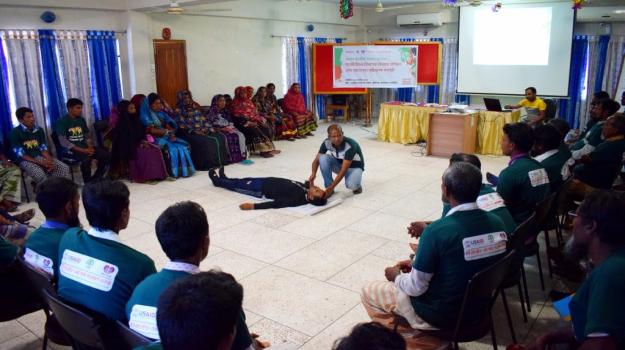 USAID's Bagh Activity (a project implemented by WildTeam) arranged a series of training sessions for fishermen and honey collectors in the Sundarbans periphery from 20 to 29 March to ensure safe and sustainable forest resource collection.
A total of 387 forest resource collectors, including 228 fishermen and 144 honey collectors, attended the training in eight separate sessions (two in each range) in all four ranges of the Sundarbans. The objectives of the training were to increase the safety knowledge of the forest resource collectors, promote sustainable harvesting of forest resources and make the fishermen and honey collectors more aware of Bangladesh's Wildlife Act and the Government's compensation policy.
Facilitated by Bagh officials from the regional and field offices, the training offered general information about the Sundarbans, tiger and forest resources, sustainable honey and fish harvest, forest working safety, first aid, Wildlife (Conservation and Security) Act 2012 and Compensation Policy, Fisheries Act, and the tiger hotline operated by Bagh. Bagh officials outlined the importance of forest working safety during the training while Assistant Conservator of Forests, Khulna circle, Union Parishad Chairmen and representatives of different Co-Management Committees attended a number of training sessions to discuss the Wildlife Act, relevant compensation policy and the importance of conserving tigers and the Sundarbans. Evaluation assessments were carried out before and after the training to assess the change in participants' knowledge of forest working safety.