Changing
the game
for
nature
Religious leaders pledge to save tigers
Wed February 22nd at 03:45pm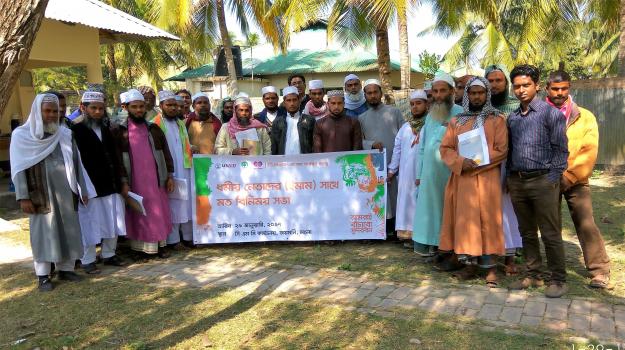 30 Imams in Khulna recently chose to become BaghBondhus (tiger ambassadors) to help strengthen the community conservation activities carried out by USAID's Bagh Activity (a project implemented by WildTeam).
The imams represent different mosques in Chandpai Range of the Sundarbans periphery and they formally joined forces during a coordination meeting with the Forest Department and Bagh officials held at the CMC Office on 29 January. The meeting discussed the importance of tiger conservation and the role of religious leaders in strengthening the community-led conservation efforts in the Sundarbans periphery. Assistant Conservator of Forests and Station Officer of Chandpai range, Coordinator and Assistant Coordinator of Bagh's Community Conservation Action (CAT) team and the treasurer of local Co-Management Committee were also present at the meeting among others.
The religious leaders are respected persons in their communities and are seen as a trusted voice on both spiritual and community matters. The imams also have been very supportive of conservation issues and the coordination meeting was part of Bagh's efforts to engage the religious leaders as BaghBondhus (tiger ambassadors) in its community campaign activities. Expressing their support for this noble cause, the religious leaders highlighted the importance of biodiversity conservation as a religious obligation. They also shared with others their role as tiger ambassadors and long-term vision for tiger conservation.