Changing
the game
for
nature
Bagh distributes beekeeping materials to VTRTs
Mon March 20th at 11:59am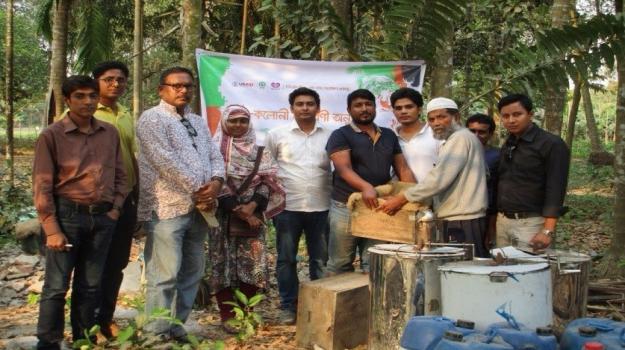 USAID's Bagh Activity (a project implemented by WildTeam) distributed 50 beehive boxes and other apiculture materials to the Village Tiger Response Teams (VTRTs) of Satkhira range on 6 March as part of its efforts to support alternative livelihoods initiatives in the Sundarbans periphery.
The VTRTs will be using the beekeeping materials to collect honey as a means of generating alternative income to reduce dependency on forest resources. Supported by USAID's Bagh Activity, the 11 VTRTs in Satkhira range have already formed a committee to operate and monitor the honey production. Earlier in January 2017, Bagh trained a total of 71 VTRT members of Satkhira range on beekeeping.
An event was organized at Basundia upazila in Jessore to hand over 50 beehive boxes with bee frames, honey extractor machines and other beekeeping tools to the apiculture representatives of the VTRTs. The VTRT members later relocated the beekeeping materials to a litchi orchard at Ishwardi in Pabna for collecting honey from litchi flowers. They are targeting to produce 500 kg honey by April 2017. USAID's Bagh Khulna Regional Manager Mr. Malay Kumar Sarker, Finance & Operations Manager Mr. Mossaddque Hossain, Livelihoods Specialist Md. Mizanur Rahman, Community Conversation Action Coordinator Mr. Mahbubul Alam and Conservation Support Coordinator Ms. Rezvin Akter and other Bagh officials were present at the event.
Bagh has been working with partners and communities to support sustainable and environment-friendly livelihoods options in the Sundarbans periphery through high-quality and market driven products.