Changing
the game
for
nature
Bagh successfully completes Camera Trap survey
Tue April 4th at 04:45pm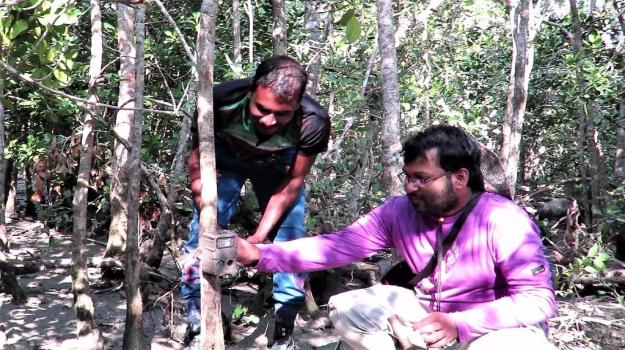 USAID's Bagh Activity (a project implemented by WildTeam) successfully completed a 3 ½ month Camera Trap Survey on March 15. The results of the survey will assist in the task of monitoring the Bengal Tigers in the western part of the Sundarbans. The 46-member field research team celebrated their 100th day in the field on 5 March as part of the extensive survey.
In collaboration with Forest Department, Bagh and its partner the Smithsonian Institute, commenced the survey on 1 December 2016. The survey covered an area of approximately 2,000 square kilometers (including rivers and canals) that is nearly 30% of the entire Bangladesh Sundarbans. A total of 338 camera-trap stations were set up in 177 survey units during the survey to monitor the occupancy of tigers and their prey in the study area. Each station was equipped with two cameras to capture the flanks of the tigers for identification and data analysis.
The survey team comprised of a total of 46 field researchers, including 13 staff from Forest Department, 12 from WildTeam and USAID's Bagh activity (including six short-term research assistants), 10 field assistants from the local community groups, five VTRT members and six boat crew. The camera trap team celebrated their 100th day in the Sundarbans on 5 March by cutting a cake and organizing a cultural program. The members of the survey team were awarded certificates of participation during a function on 15 March in Khulna. The Conservator of Forests, Khulna Circle and Project Director of USAID's Bagh Activity Mr. Md. Amir Hosain Chowdhury and Bagh's Chief of Party, Mr. Gary F. Collins, congratulated the team during the certificate ceremony and they noted that their work will not only benefit the biodiversity of the Sundarbans, they have set an example for all of Bangladesh on how to carry out professional scientific research that all citizens of Bangladesh should be proud of.