Changing
the game
for
nature
Bagh presents two tiger paintings to AISD
Sun April 30th at 03:51pm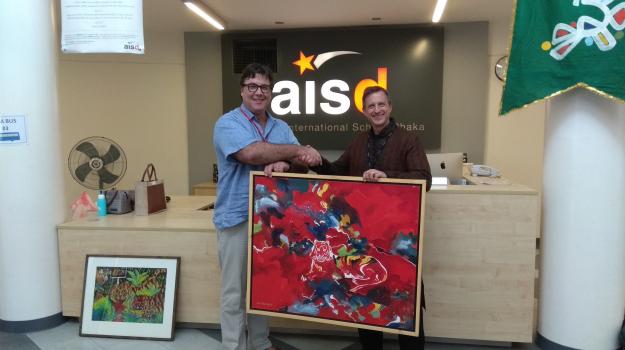 USAID's Bagh Activity (a project implemented by WildTeam) provided two tiger-inspired paintings to American International School Dhaka (AISD) to promote tiger conservation among the young students who have been strong supporters of Bagh's work.
A delegation from Bagh, led by its Chief of Party (COP) Mr. Gary F. Collins, visited AISD on 20 April to hand over the paintings to the school authorities. Mr. Matthew Wise, Principal of Elementary School at AISD, received the paintings on behalf of the teachers and students and thanked Bagh for the gift. He said the paintings will further stimulate the young learners' motivation for the conservation of tigers and the Sundarbans. Mr. Gary F. Collins recalled visiting a fourth-grade classroom at AISD in September last year to share Bagh's work. The students were highly motivated by the work being done by Bagh and showed much enthusiasm to do something for protecting the tigers and Sundarbans. A group of students turned the motivation into action and raised $1,000 by saving their tiffin money to donate for tiger conservation.
The paintings handed over to AISD are from the stock of artwork created on 12 February 2016 during an Art Camp organized by the Bagh Project as part of its nationwide campaign to raise awareness for tiger conservation. USAID's Bagh Activity arranged an exhibition and auction of those paintings at the American Club, Dhaka on 8 April 2017 to raise funds for tiger conservation in Bangladesh.